May 10th, 2021
Community Updates
---
Ten Days of Praise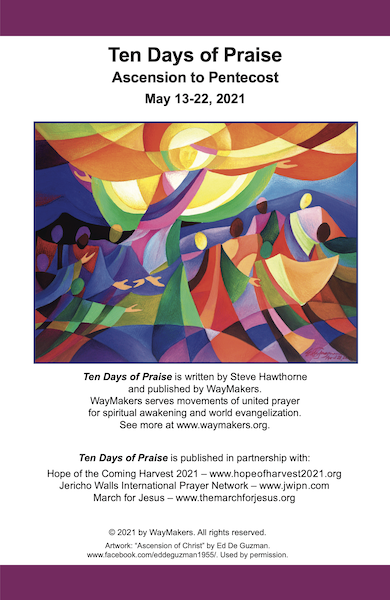 In conjunction with several other initiatives of prayer and worship from Passover to Pentecost, 2021, WayMakers has published a praise guide named Ten Days of Praise.
Ten Days of Praise
Ascension to Pentecost
May 13-22, 2021
For many, these ten days of worship and praise lead the way to March for Jesus celebrations on May 22, with the theme, "Worthy is the Lamb." The prayers and praise expressions are embedded in a rich, but simple description of the ascension of Christ as King to fulfill all that God has purposed for all nations.
Written by Steve Hawthorne, this praise guide is included in Seek God for the City 2021. But this praise guide is also being made available, at no cost, in a pdf format, making it easy to use on any device. Download the document, and let the praise begin!