December 23rd, 2020
Community Updates
---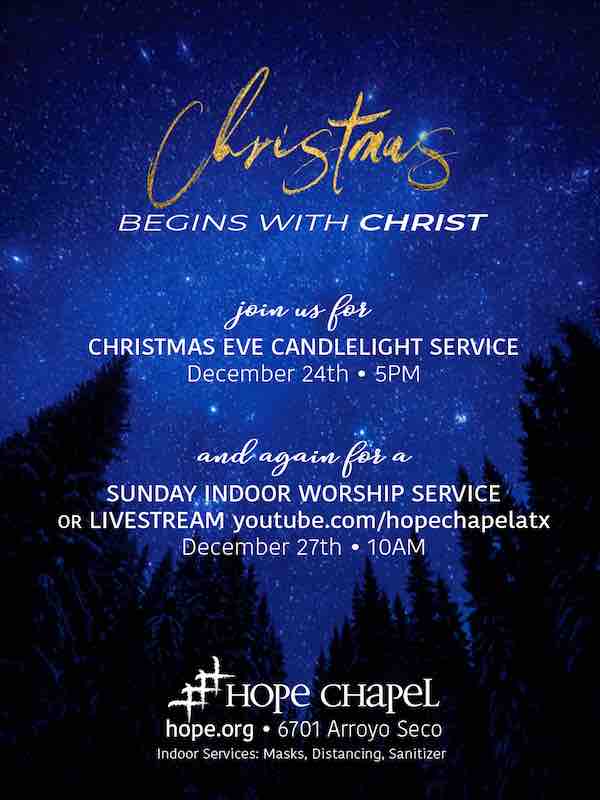 Come as you are: dressed for photos in front of the tree or with the kids in pajamas. Begin or continue a tradition with Hope at the Christmas Eve Candlelight Service at 5:00 PM.Bring your family and friends to sing the carols and hear the story once again of when Hope came as a human and lived among us.
Then stand in the darkness as the first candle is lit and see it slowly spread across the room, candle to candle. Until at last, enveloped in the glow, we remember when The Light came into the world and pierced the darkness.
INVITE SOMEONE WITH AN ELECTRONIC INVITATION
Invitation can be downloaded and sent electronically to your co-workers, friends, family, and neighbors.
SAFETY PROTOCOLS
Masks (bring yours, please), seating in family groups for physical distancing, and hand sanitizer required.
LIVESTREAM FROM HOME
May God sending His Son on that first Christmas bring peace to your spirit as it has done for all who worship the baby become King: Jesus. "Oh, come let us adore Him, Christ the Lord."